Mekong Bike Tours
---
Vietnam Backroads Company was established in 2010, Its team created and built up plenty of programs and itineraries and made inspection trips to different parts of the country as the company planned. Our team quickly created the most exciting adventure tours, from day trips to 15 days of exploring the charming countryside and the country's beauty. Since the company was established, we have gained and made achievements, and Vietnam Backroads has been listed in many guidebooks. As our reputation as leading in cycling adventure trips in Vietnam, and planned to tailor-make different styles of adventure trips in Indochina. It will attract more international clients from over the world. Our team is committed to our responsibility for providing personalized services, hospitality, and extensive local knowledge. We are an adventure pioneer as the top cycle tour operator and highly receiving that meets and exceeds the demands of clients by pushing our best! Vietnam Backroads is an active local tour operator headed by an experienced, responsible manager with a professional team specializing in cycling adventure holidays. Vietnam Backroads offers adventure trips, cycling holiday vacations, off-road mountain biking tours, challenging bike rides, and luxury short cycling excursions in Vietnam, Cambodia, and Laos. Our top cycle tour operators will always tailor-made trips that fit you best!
---
In early January 2023, Vietnam Backroads's team changed its company name because its name "Vietnam Backroads" didn't match the domain "vietnamcyclingtours.com" used for many years. This made tourists confused when they decided to make the booking.
---
Our IT guys found it interesting is the name "Vietnam Cycling Tours" is the best keyword for cycling trips and matches with the domain: vietnamcyclingtours.com. We want to inform you that Vietnam Cycling Tours is the new name instead of Vietnam Backroads.
---
Address: 420/8 Vo Van Kiet St, Co Giang Ward, Dist 1, Ho Chi Minh, Vietnam
---
Tax code: 0310261315
---
Tel: (+84) 28 - 38370532 - 36017671 - 38374506
---
Hotline/ WhatsApp/ Viber: +84 976473472 - Ms Phuong Tam
---
Hotline/ WhatsApp/ Viber: +84 903195175 - Mr Van
---
E- mail: sales@vietnamcyclingtours.com - Ms Phuong Tam
---
E- mail: info@vietnamcyclingtours.com - Ms Lam Kieu
---
Email: booking@vietnamcyclingtours.com - Mr Phuc
---
E-mail: saigonbikeshop@gmail.com
---
Website: www.vietnamcyclingtours.com
---
Website: www.saigonbikeshop.com/en
---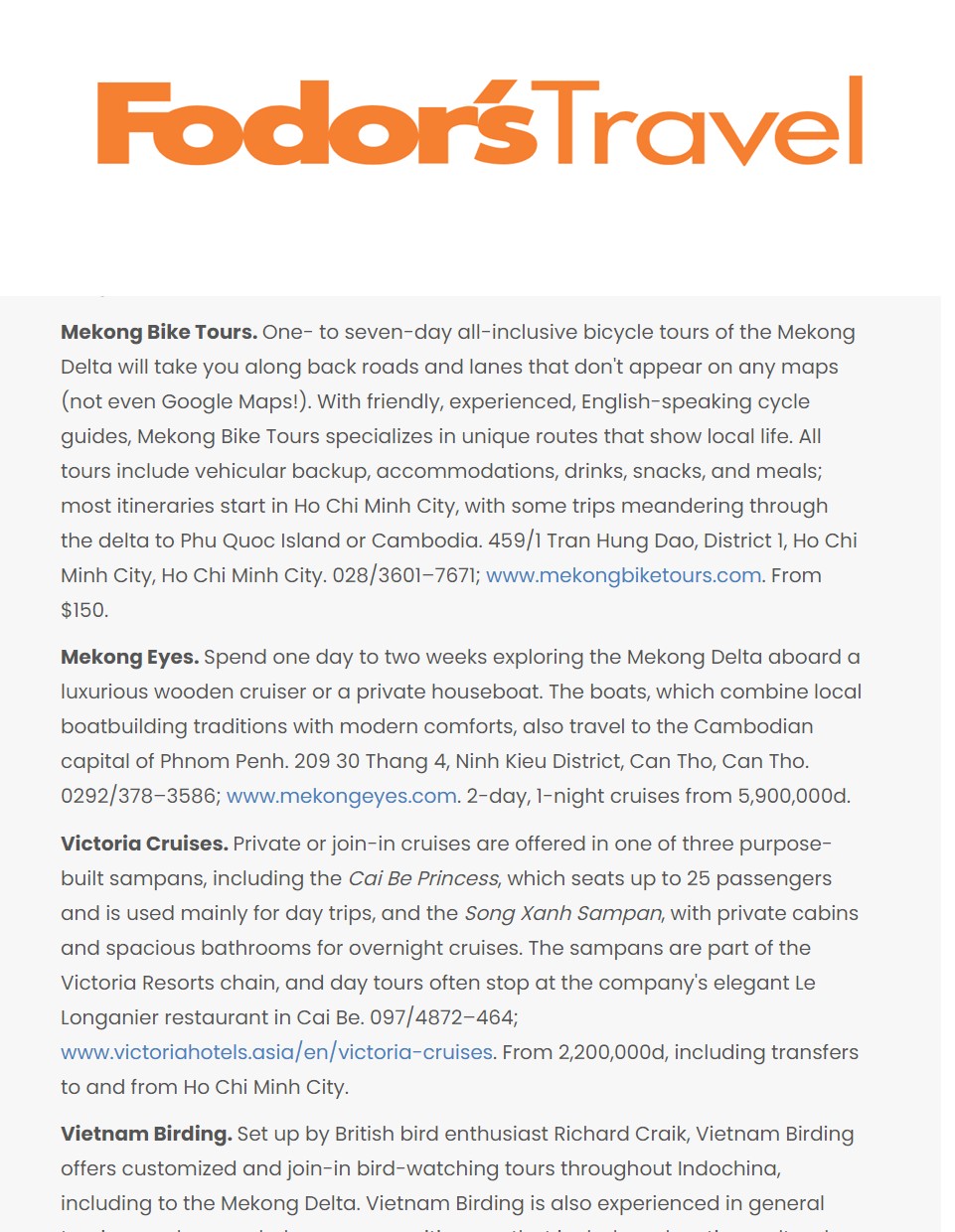 ---